Exhibition Centre
Since 2000 Piacenza Fiere became Piacenza Expo Spa moving also from its historical headquarter to a new one more appropriate to meet the new Exhibition Centre activities needs.
By renaming and changing the logo, Piacenza Expo wanted to emphasize the beginning of a new era for the Piacenza trade fair system, not by chance on the threshold of the third millennium.
The Structure
The advanced architectural criteria that have been planned for the new settlement took into account the future developments of the fair system, especially paying attention to the comfort, to the lighting and to the accessibility of different services.
The total area is 30.000sqm made of 3 exhibition pavilions, 10.000sqm, 3.000m2 and 1.000m2, a 7.000m2 outdoor space, 400 parking spaces for exhibitors, 2.000 parking spaces for visitors, a full equipped
conference hall with 300 seats, a convention hall with 100 seats, a 40 seats classroom, coworking rooms and areas, a restaurant, a self-service restaurant, two cafés and a nice shopping arcade with different stores and services.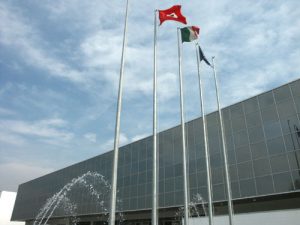 This large structure is perfectly suitable to host both national and international fair in a context of steady evolution.